Have an upcoming event and need your inventory to arrive at the venue on a specific date? This article will go over Event Fulfillment best practices for the Phoenix Sending Fulfillment Center to ensure that you receive your items on time! For more information, click here!
What is an Event Fulfillment Send?
Event Fulfillment is a Send of product intended for use at some kind of scheduled event, conference, or gathering. They also sometimes tend to be sent to the event venue or to the person organizing the event. These types of Sends need special attention from our Support Team and our Sending Fulfillment Centers due to their time-sensitive nature.
What isn't Event Fulfillment?
Orders that do not qualify for Event Fulfillment status are Sends going to specific individual recipients. These types of orders will not be prioritized in the same way Event Fulfillment Sends are prioritized in our Sending Fulfillment Centers. However, if you have a Send that needs special attention, feel free to reach out to our Support Team for guidance.
Please note that Event Fulfillment Sends typically take 7 to 10 business days to process. Please submit your Event Fulfillment Send at least 7 days in advance.
General considerations:
Once you initiate an Event Fulfillment Send, please reach out to our Support team! Simply click the orange Sendoso S on the bottom-right corner of this page to get in touch.
Our Support Team will alert our SFC to let them know that the Send requires special attention. 
In order to ensure a smooth shipping and delivery process, please take this information into consideration when preparing to place an order for an event:
Our Sending Fulfillment Centers tend to have longer processing times for larger Sends. Place your Event Fulfillment Send as soon as possible when preparing for an event

Event Fulfillment Sends typically take 7 to 10 business days to process 
Place orders 14 days prior to the event for domestic and 17 days prior for international sends
Our regular order processing time is 2 to 3 business days, but this does not take shipping times into account

We recommend choosing overnight or two-day shipping for these orders to compensate for any possible delays in processing
Be mindful of the destination - there are certain countries we cannot send to, some are considered high-risk, and some may require additional information. Please review this article for more information
Once you've placed the Event Fulfillment Send, please contact Support to notify them of the nature of the order. Our Support team will ensure the Sending Fulfillment Center prioritizes these Sends.
Considerations for admin + manager users:
Inventory Storage Guidelines
The Sending Fulfilment Center will accept a variety of items, but they must be self-contained within a container with the required SKU and Ship Notice information. 
Items the SFC can accommodate:
Table cloths* 
Banners
Unused swag/items from the original send
Pop-ups
Totes
Tents 
Booths
Decorations
Handouts/Documents
Signage
Items the SFC cannot accommodate:
AV equipment
Large pop-ups/tents that are not self-contained
Large tables and/or platforms
Any other loose items not self-contained 
*SFC is unable to launder or clean any item
Process for Returns/Storage
The SFC will handle returns in two ways:
1. Providing return shipment labels upon request during the initial shipping process
For this option, you will need to request a return label from the SFC at the time of the order being placed by adding special instructions during the Touch set-up process. When you go to select the Packing Standards, click Give Custom Instructions, and note that you'd like a return label.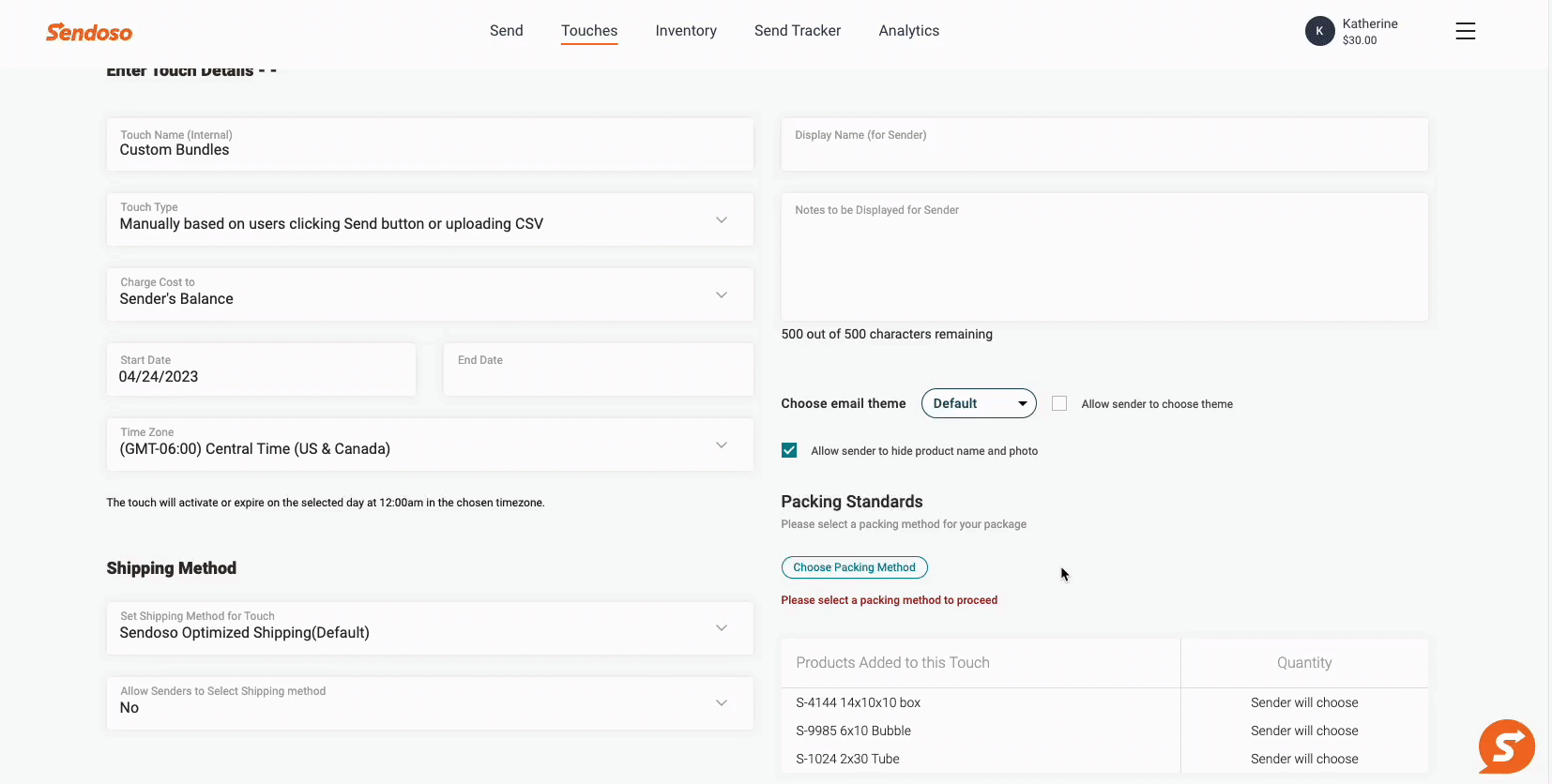 Once you've done so, please reach out to the Support Team and let them know an Event Fulfillment Send was just placed.
After the event, you can then drop off the items to be returned at the carrier location based on what is on the return label (FedEx, USPS, etc.)
2. Creating a Ship Notice 
You will simply generate a new Ship Notice by adding additional inventory to existing products and sending the items in as normal.
For either of the above options, you will be able to request a pick-up of your items from the specified carrier. 
If you have any questions about this process or any event or special orders you plan to Send, please feel free to contact our Support Team for assistance!