Sendoso Direct is a great way to send unique gifts to your recipients from select vendors. Through the Direct Marketplace, you'll be able to find the perfect gift for any contact.
In this article we'll go through the following:
Navigating the Sendoso Direct Marketplace
Navigating the Marketplace
The Marketplace is where you can browse all of the vendors and gifts available for sending. To access the Marketplace, simply click + Create New Touch and select Direct Marketplace. Once you click Next Step, you'll be directed to the Marketplace.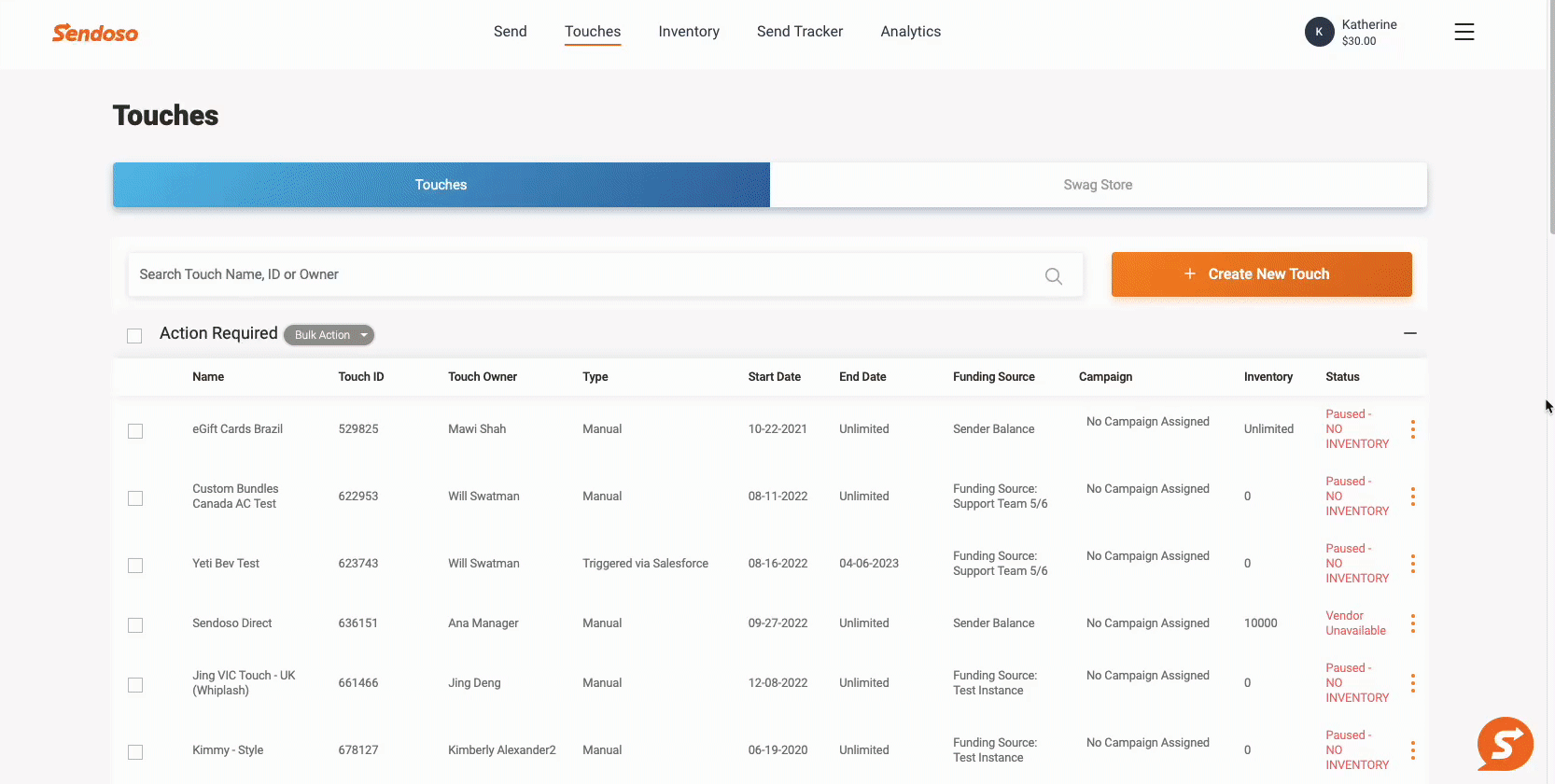 We recommend using the filters on the left side of the page to help narrow down the gifts that are available to send that fit the theme, destination, and budget for your campaign.
We strongly recommend that you at least filter the results based on Ship to region or country. 
When you've spotted an item that interests you, go ahead and click on it to read more. There are a few important things to consider before choosing a Sendoso Direct gift.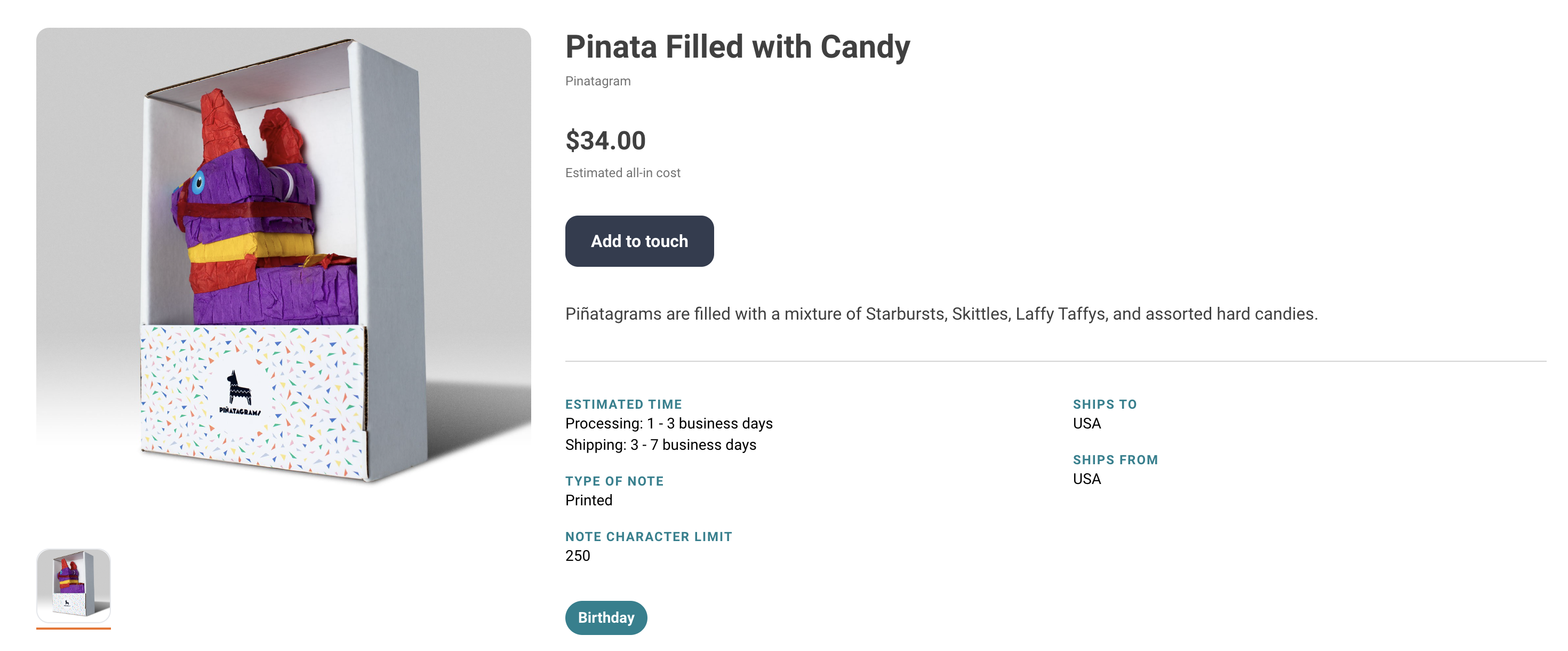 First, you'll want to note the price. It is an estimate as shipping costs can vary. You'll also want to take note of the processing and shipping times. Since these items ship directly from each vendor, these times may vary from vendor to vendor.
Also, you will see the type of note that comes with the items along with the character count. And most importantly, the ships to and ships from locations. It is important to take all of these factors into consideration when choosing the perfect gift.
For more information on recent updates we've made to the Marketplace, click here.
Setting up a Direct Touch
Like any other Send, you will have to set up a Touch in order for your Senders to send these special items. Let's get to it!

The setup process
Click Next at the bottom to advance through each step!
Step 1:

After you click the + Create New Touch button on the Touches page, you will want to select Sendoso Direct Marketplace to get started. Click Next at the bottom of the page.

Want to set up a Touch with Custom Branded Direct Products? Check out this article. For information about Wine and Champagne Touches, click here.

On the next page, you'll see all of the Sendoso Direct options we have in the Marketplace. There are a lot of options, so we definitely recommend using the filters to the left of the page to narrow down your options.

 

When you're ready, simply click Add to touch to move on to the next step.

Step 2:

Now it's time to fill out the Touch details. You'll need to name the Touch, select the Touch type (triggered vs manual), and decide whether you want to select an end date.

An important thing to note, you have the ability to choose the email theme for the Touch. If you want to give your Sender the ability to choose a theme, then select Allow sender to choose theme.

The Additional Details section allows you to set some additional limits on this Touch.

Limit Numbers for this Touch: This field allows you to set a limit on how many times this Touch can be sent in the specified time period. In the above example, 10 quantities of the Touch can be sent twice in a week.

Once you've set the Additional Details settings, click Next Step at the bottom to continue.

Step 3:

In this step, you can set up Salesforce tracking for the Touch. For more information about this step, please review this article.

This is optional but great for tracking information to track ROI and map Campaign Member Statuses to Sendoso Statuses.

Click Next Step to continue.

Step 4: 

In this step, you'll be able to assign this touch to specific Teams within your account. If you want this touch to be visible to every user, click the Select all box at the top.

You can also fill out why you're setting up this Touch and any KPI outcomes. This is optional!

Click Finish.
You'll be redirected to the Touches page and if you scroll down, you will see your Touch in the Active section of this page.
For additional training on the platform, we recommend checking out Sendoso University courses. These courses are designed to help you be as successful as possible using Sendoso.
For troubleshooting or answers to frequently asked questions, check out our Help Center. And, of course, should you run into any issues or if you have any questions, feel free to contact our Support Team!