The Sendoso Way is the new default packing standard based on proven industry methods.
Sendoso Way packing standards provide the best possible unboxing experience for recipients, ensure items are protected from damage during shipping, and improve Sending Fulfillment Center efficiencies.
This new experience will apply to physical touches including single item sends, Bundles, BYOB, and Amazon. We will be sunsetting the special instructions option for Handwritten Note and Sendoso Direct touches.
Key Benefits
Have more confidence with how your send will be packaged and shipped for ideal presentation and maximum safety

Avoid writing out special packing instructions as now you will know what to expect with Sendoso's packing standards

If you still would like to leave packing instructions, you can now enter these instructions by SKU, making it easier for you to give instructions and easier for the Sending Fulfillment Center to read and follow
The Sendoso Way Product Experience
Sendoso Way will apply to a touch that involves our Sending Fulfillment Center such as the touch options below:

When you land on the Touch Details section, you will now see a new section called 'Packing Standards' (this replaces the previous field called 'Special Shipping & Packing Instructions')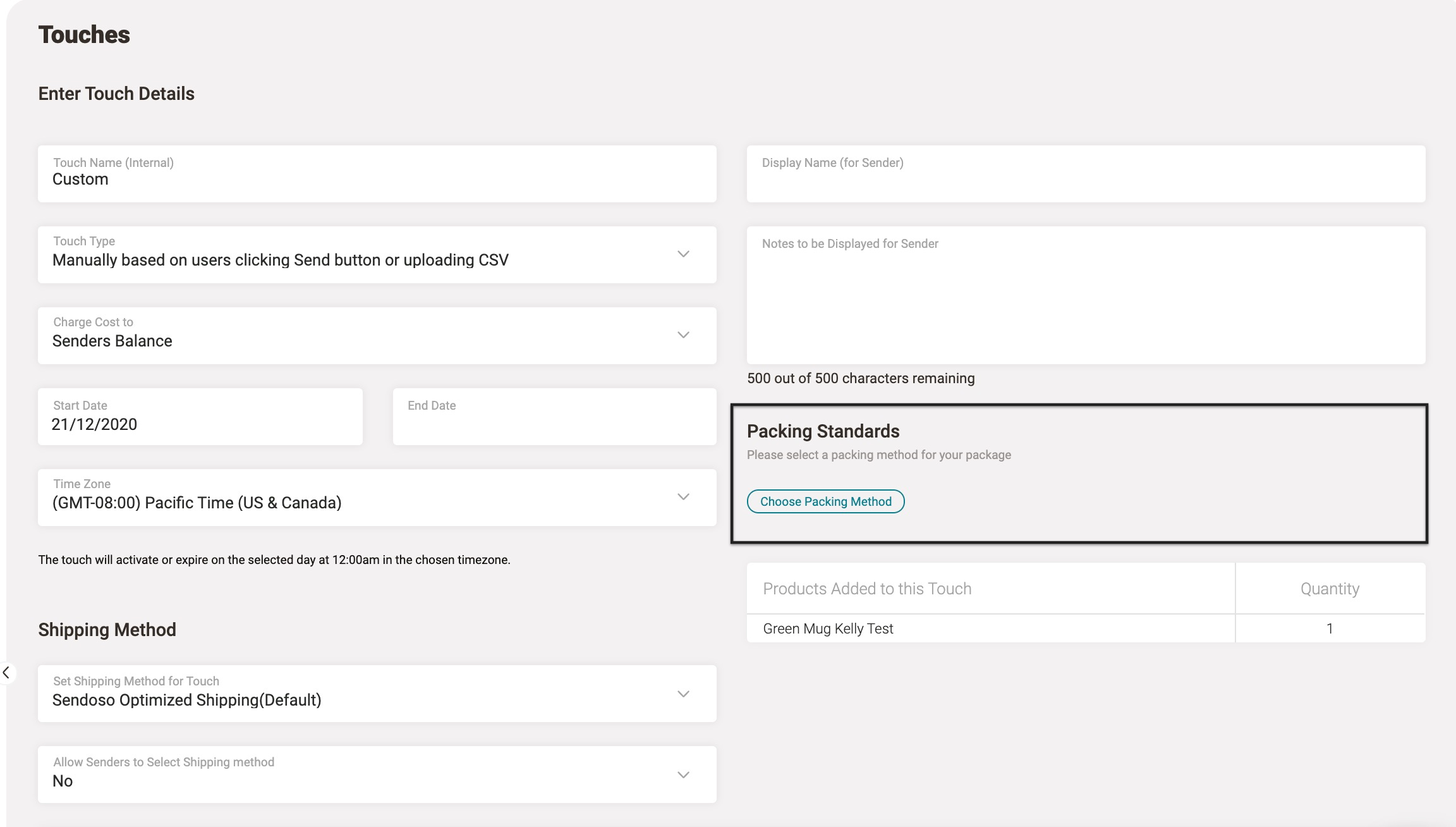 Here you can view our standard packing methods that you can always expect from our Sending Fulfillment Center for every single package.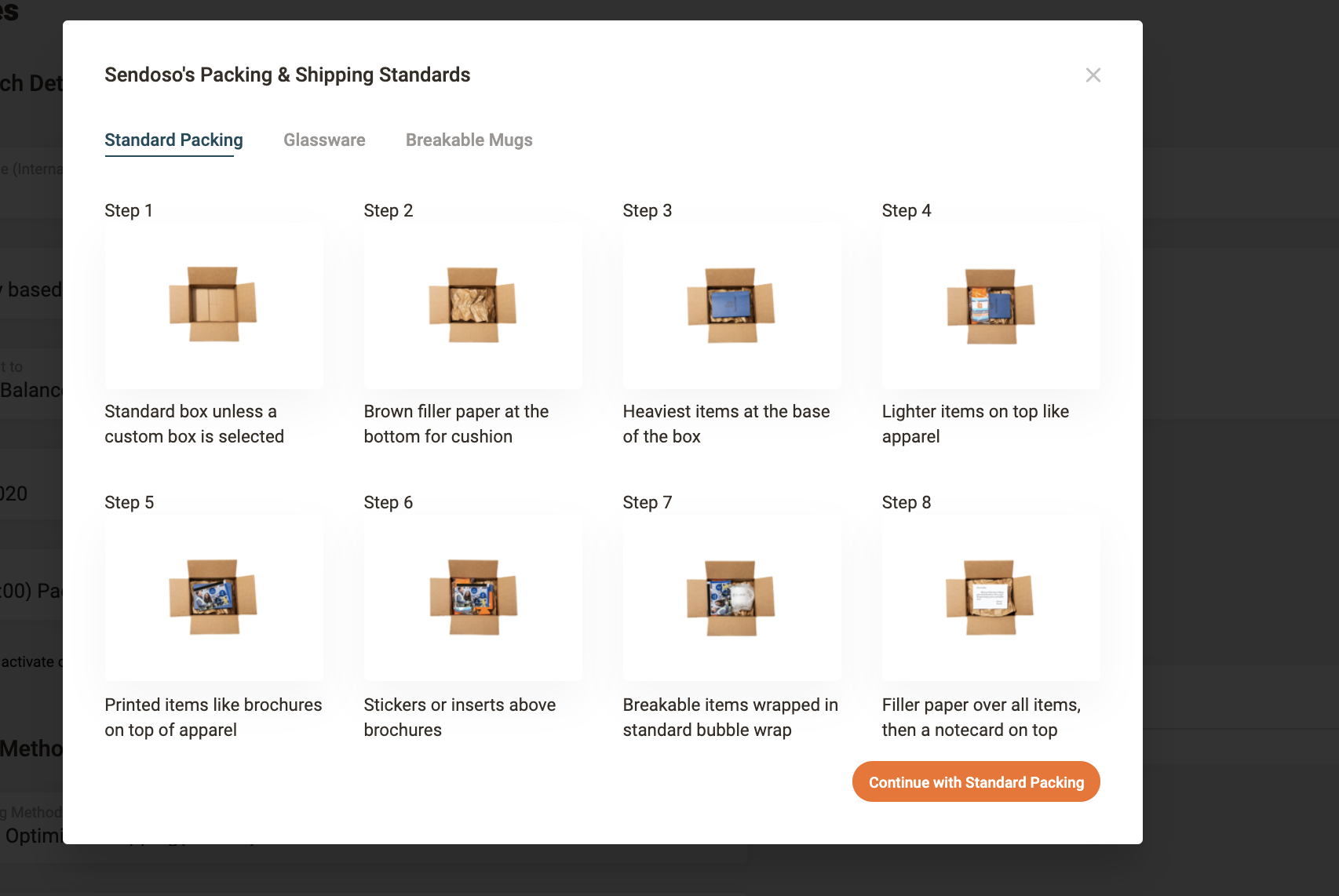 When you select the 'Continue with Standard Packing' button, it saves your selection and the Sending Fulfillment Center will package your send according to our standards mentioned above.

If you decide you'd like to add custom packing instructions, click 'Give Custom Instructions'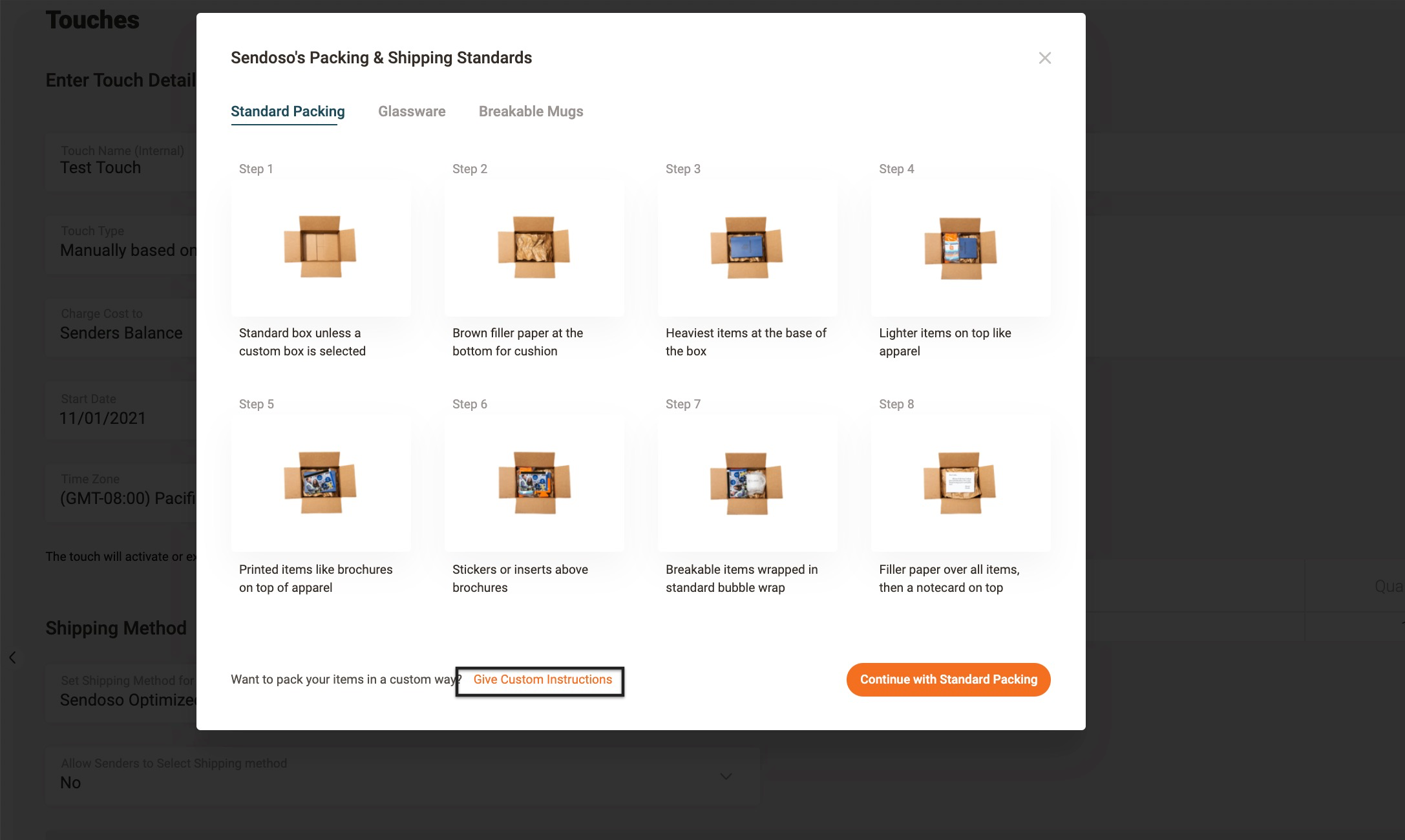 Here you can decide if you'd like to add instructions to any of the SKUs you added to your touch. You will also see guidance here on the right on how to add instructions for common scenarios like page folding and item placement.
For example, you can use instructions like:
Place X SKU at the bottom left of the box
Place Y SKU on top of X SKU
If you have a special packing project, you can click the 'Contact Send Squad' button to submit a request to our Send Squad and someone will contact you shortly.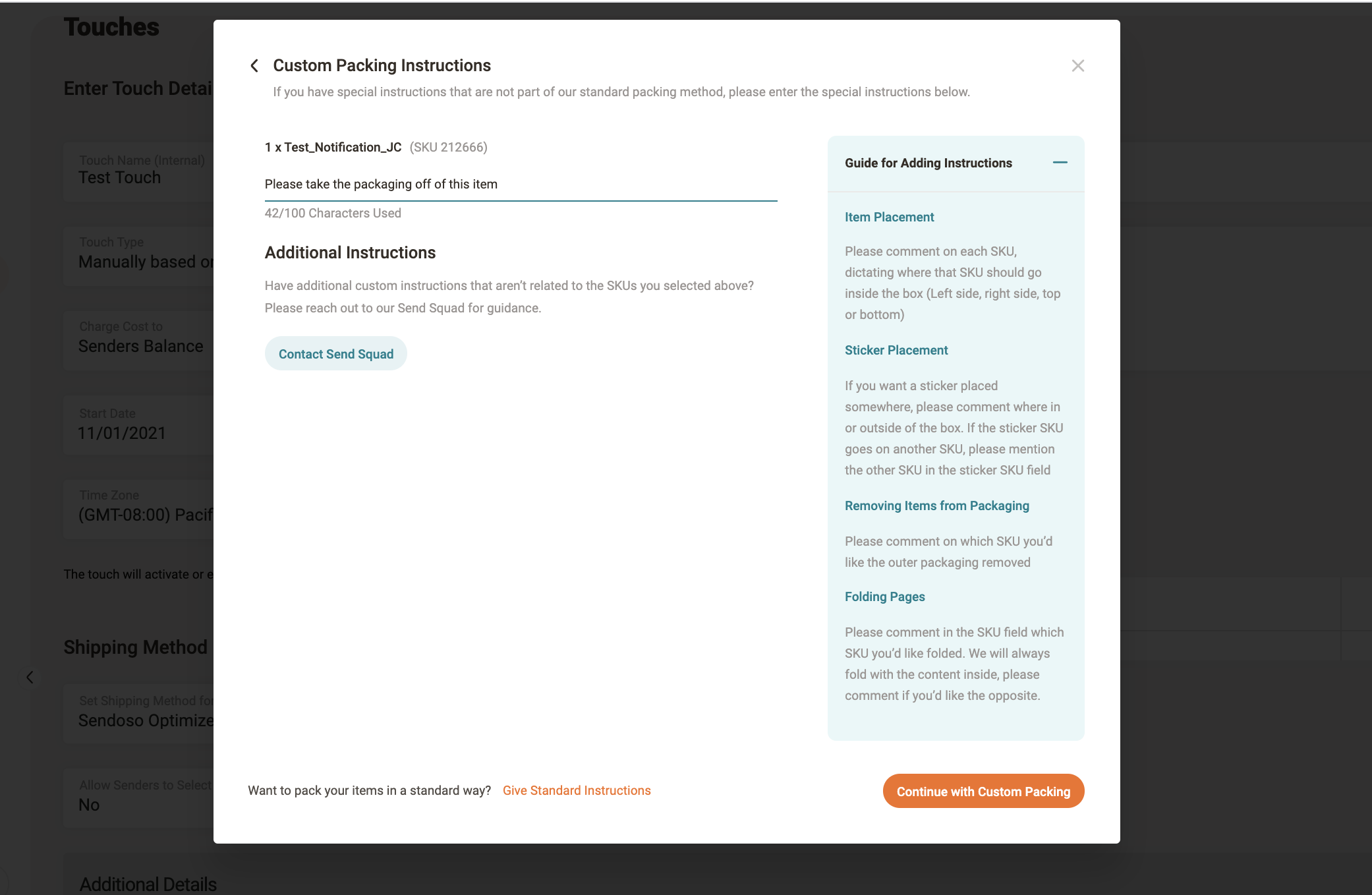 Existing Touches with Packing Instructions
If you have an existing touch, active or draft, where you had previously added packing instructions, you will now see those instructions here. These instructions are not editable.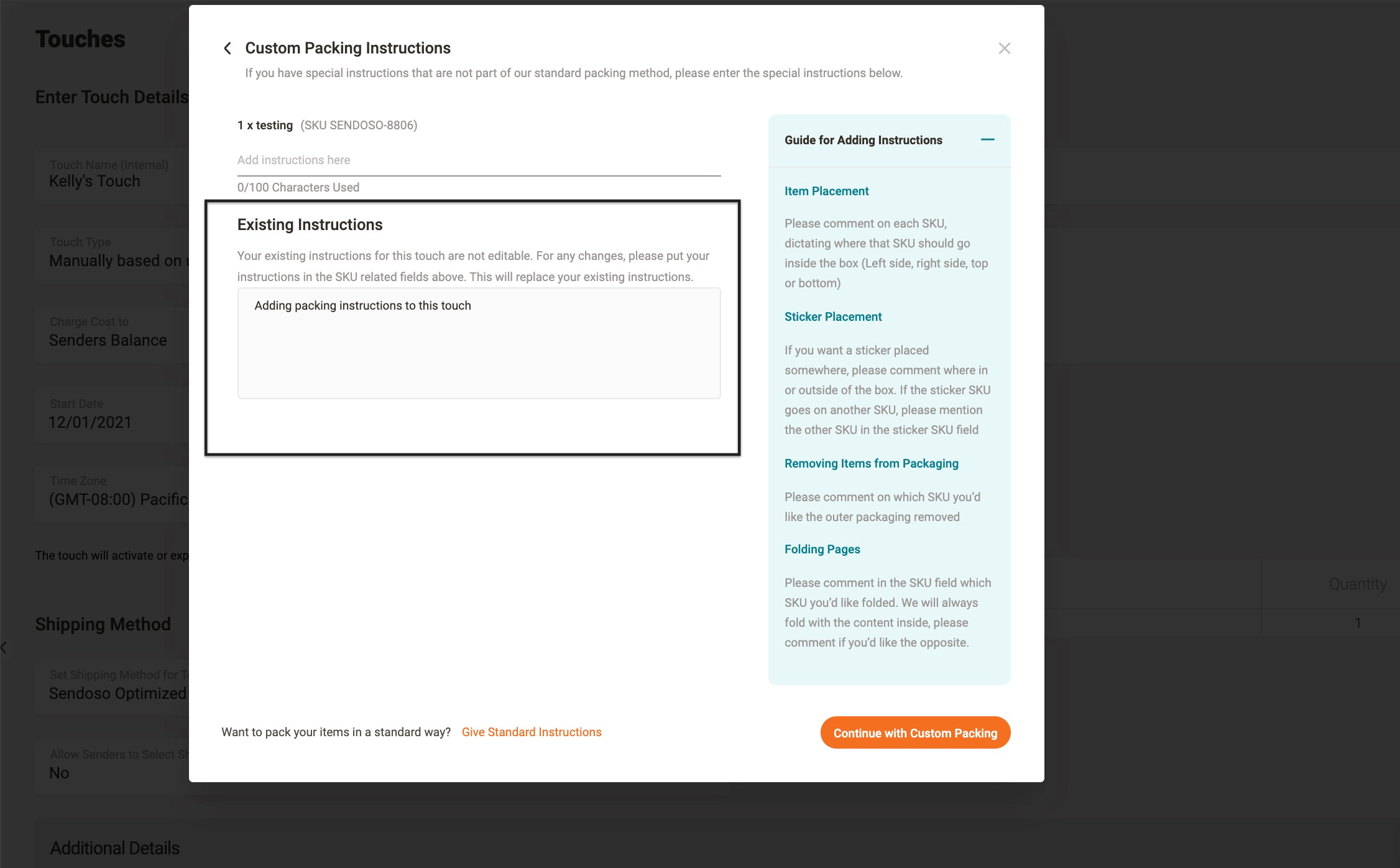 From here, if you decide you no longer need these packing instructions, you don't have to do anything. On Jan 31, they will be removed.
If you would like to keep or update these instructions, in order to keep them you must enter the instructions in this section by SKU. This gives you the ability to specify instructions by each SKU that you've selected.
On Jan 31, the existing instructions section will be removed and the SKU level format will be the new and only way to add instructions.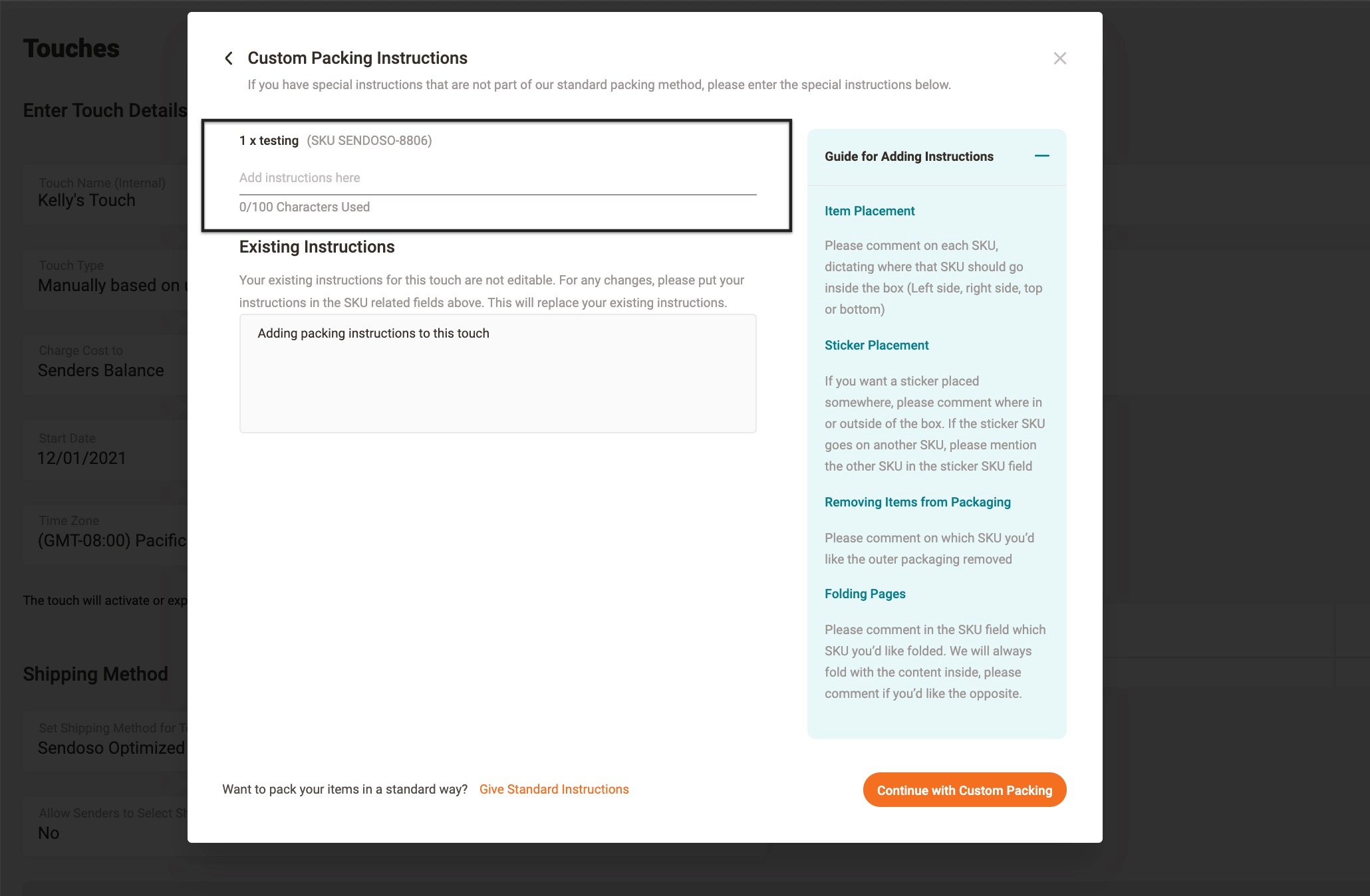 Existing Preset Bundles with Packing Instructions
When you request a Preset Bundle to be created by your CS resource or someone from our support team, that person creates the Present Bundle for you in our admin portal and at that time can add shipping instructions to this bundle on your behalf. This is duplicating efforts because you the user can also give instructions on the touch.
Starting February 1, 2021 we will be defaulting to any instructions you give in the touch and we will be eliminating the instructions your CS resource/support had previously added to Preset Bundles.
Until February 1, 2021, you can review bundle instructions if applicable to your touch by editing the touch and going to the Touch Details section. Then click on the "Choose Packing Method" button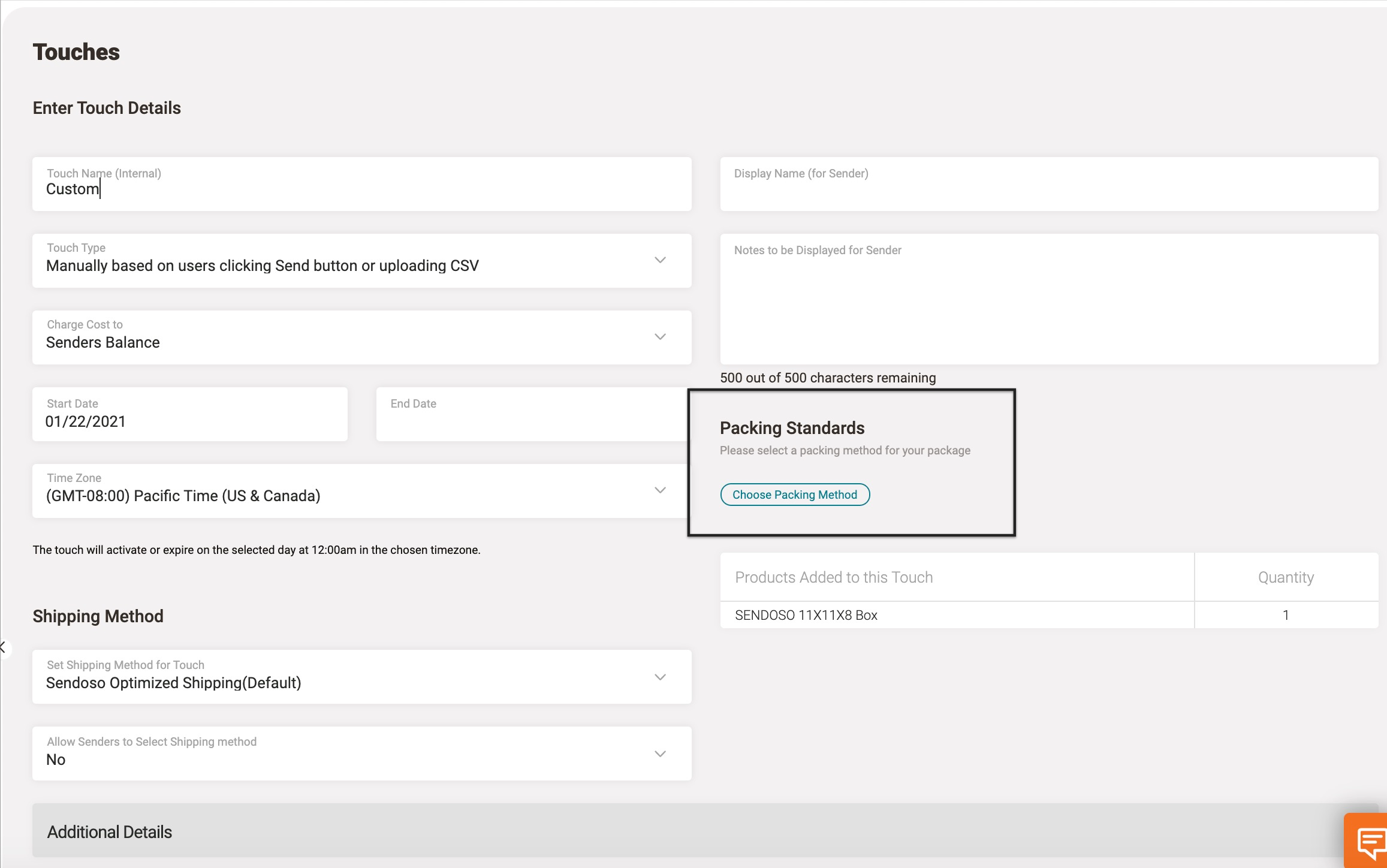 From here, if the Preset Bundle added to your touch included instructions, you will see those instructions here which you can review. If you decide you want to keep any of these instructions, please enter them into the SKU level format above.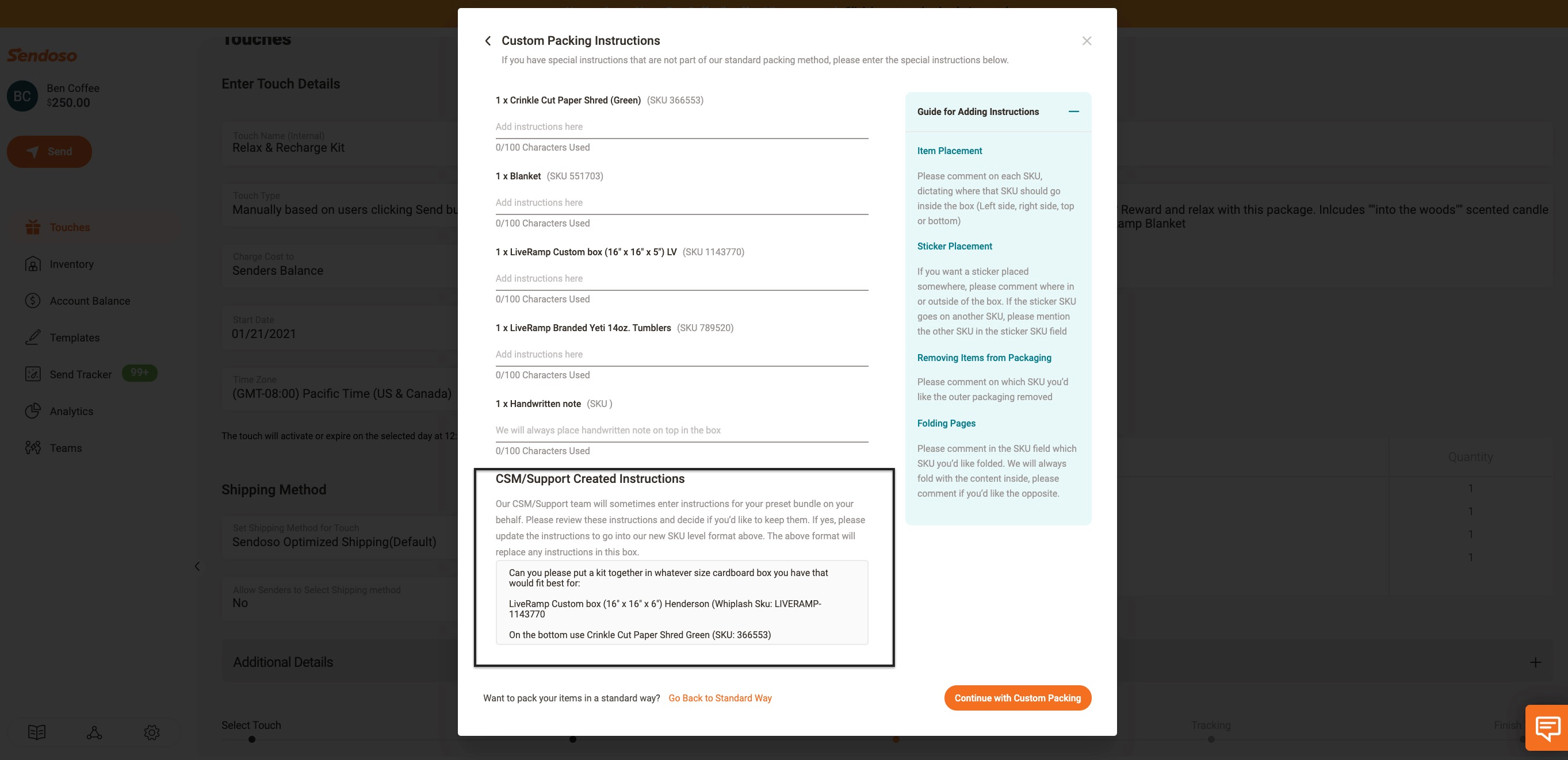 FAQs
Q: When do Sendoso Way packing standards go into effect?
A: We will begin packing items the Sendoso Way starting on Monday, February 1, 2021
Q: Will this affect Handwritten Note touches and Sendso Direct touches?
A: For touches that are Handwritten Notes or Sendoso Direct, we will be eliminating the option for custom instructions for these two touch types. If you have previously added custom instructions to any of these touches, then you do not need to update instructions since any existing instructions will be removed on 1/31/21.
Q: What happens to legacy instructions in existing touches?
A: If you want us to follow any custom packing instructions that you previously provided, you will need to go in and edit your existing instructions to the new SKU format in the touch details section of the touch.
Q: What if I do nothing to existing touches with instructions?
A: The Sending Fulfillment Center will start packaging your sends in the Sendoso Way which follows industry best practices. Your existing instructions will be removed on 1/31/21.
Q: What if I want custom packing for new touches?
A: You can specify custom packing instructions during touch creation by selecting "Give Custom Instructions." Here, you can add in instructions for each SKU added to the touch.
Q: Does custom packing cost extra?
A: Custom packing is included in the Plus, Pro, and Enterprise tiers. It is not included in the Essential tier (formerly Basic). Customers on an existing Basic plan will continue to have access to custom packaging instructions until their renewal.
Q: What color tape will be used with my package?
We are no longer accepting custom tape material for future sends. We'll be using the following tape options:
Kraft tape for brown boxes

White tape for white boxes

Clear tape for colored mailers