Triggered sending approval is built for Salesforce, Marketo, Eloqua, and HubSpot to provide a layer of protection for your triggered sends. Rather than triggers coming directly to Sendoso and automatically going out to whoever triggers, they will instead be added to a queue for a Manager or Admin user to approve or reject.
For more information about triggered sending, check out these Sendoso University courses!
Setup Flow
The setup flow will be very similar to Sendoso's current trigger send setup, with an additional checkbox to "require approval" while setting up the touch details.
Navigate to app.sendoso.com/touches and select "Create new touch" or edit an existing triggered touch.
Choose the content of the send and continue to the next step.
Verify the send details on the next screen.
On the touch details screen, make sure the touch type is set to Triggered, and you will notice a new option to "Require Approval" appear underneath.
On the next screen, confirm which tool you will use to trigger touches and complete the recipient mapping.
Choose who will be notified when a send is pending.
Map the touch to a Salesforce Campaign for ROI tracking.
Finish the touch.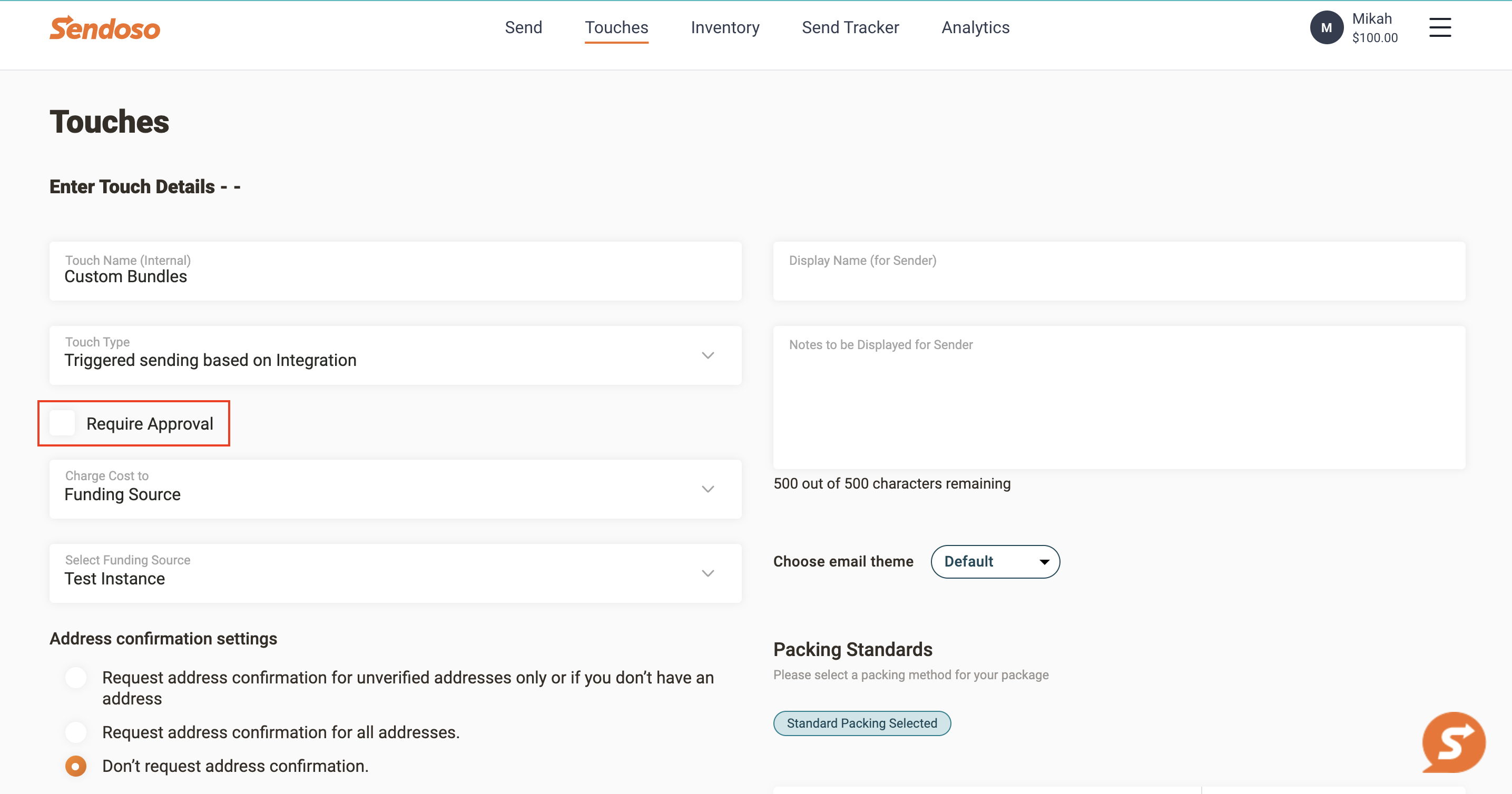 Approval Flow
The approval flow lives on the "Send" page in Sendoso for any Manager or Admin user.
Here you will be able to filter by touch and view all sends that are pending Manager or Admin approval.

If the sends are missing required info (Street Address, City, State for example) you will be able to add this information at this time by clicking on the name of the recipient.
While viewing the list of pending sends, you are able to approve on a one by one basis by selecting the green check mark on the right side of the page.
You are also able to bulk approve by checking the box to the left of each recipient's name and selecting the approve button at the bottom of the screen.
Once sends are approved, they will be tracked as normal in the Send Tracker and updates will be pushed to the respective CRM.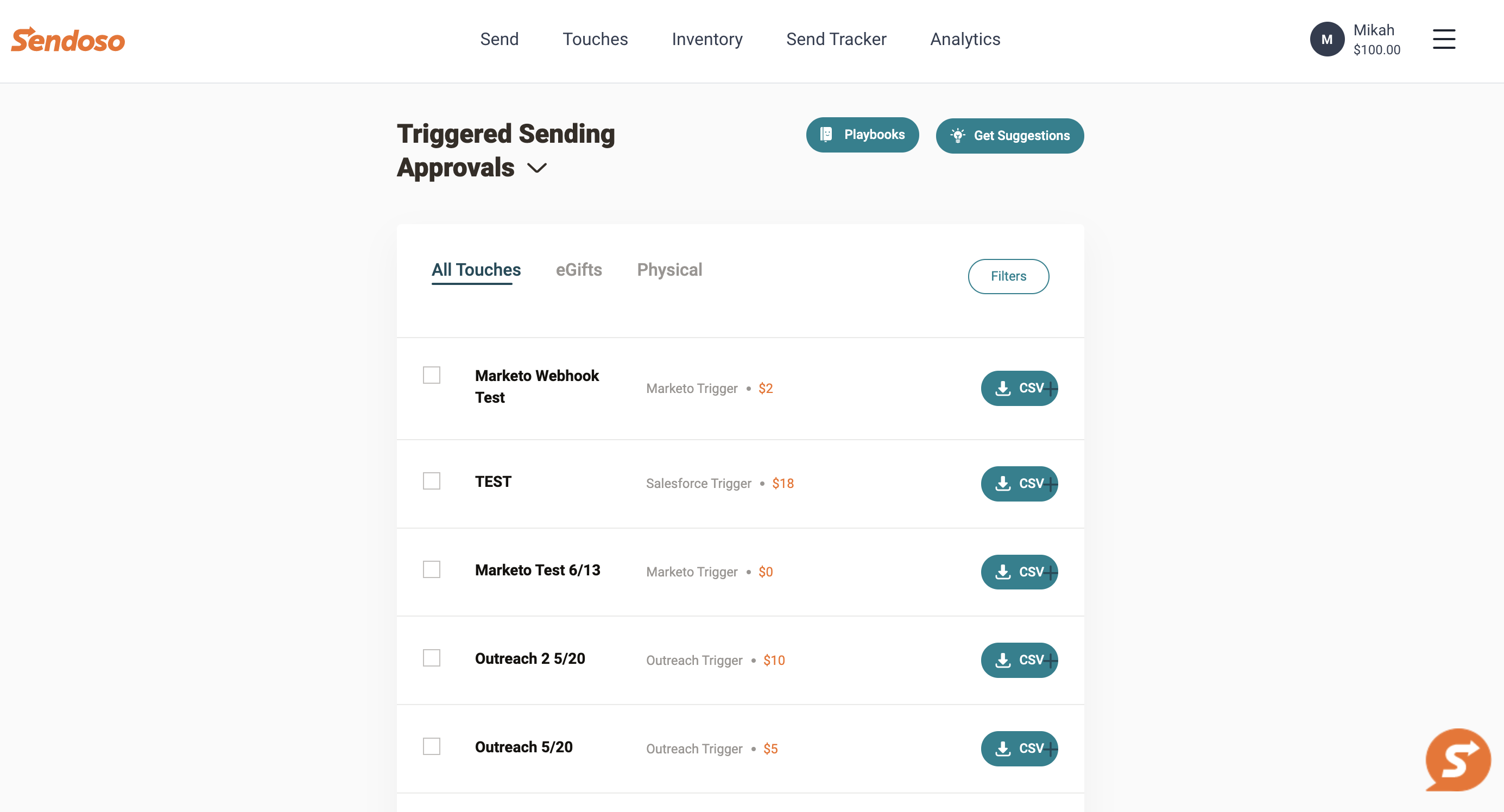 All approval requests will remain in the queue for 10 days and then expire.
Triggered Sending Approval with Dynamic Links
When using this feature with dynamic links (available in Marketo Engage, Eloqua, and Outreach) it alters the redemption flow.
Recipients will click on the embedded link and then receive a message that their eGift is being verified: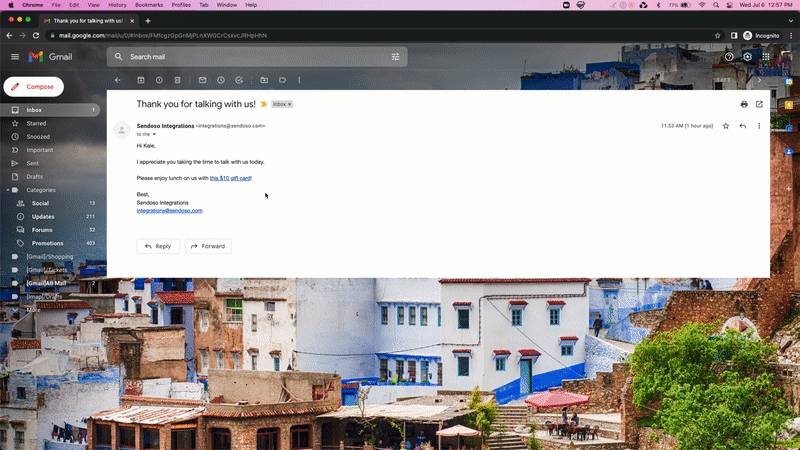 Once the recipient has clicked the link, it will appear in the approval queue as outlined in the Approval Flow section above. After your approval, the recipient will receive a follow-up email with their eGift!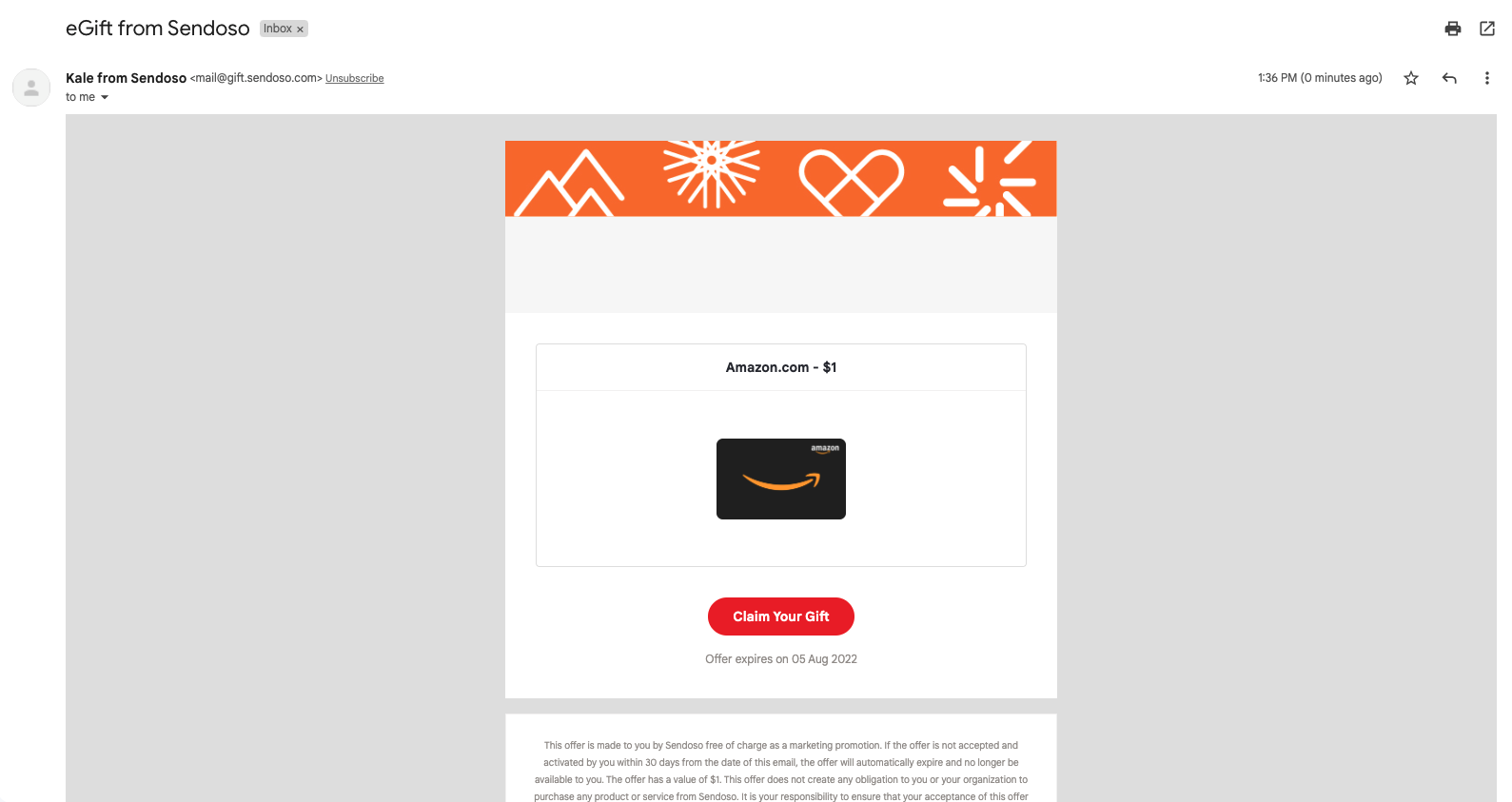 (This image does not reflect the exact image your recipient will see. All branding and customization settings will apply)
Please note that the standard eGift statuses will apply with this flow