Add a step to your eGift sends that requires recipients to schedule time with you before their eGift can be used. Meetings can be scheduled through Outreach, Salesloft, Calendly, Chili Piper, Groove, and HubSpot.
For additional training on this feature, check out this Sendoso University course!
How do I use it?
At the time of sending a Sendoso Choice eGift, when you choose the touch you'd like to send and how you would like to send it, you will see a new option appear: "Require recipients to schedule a meeting to redeem the gift."
If this box is checked, Sendoso will open a new prompt requiring the sender to enter their Calendly, Chili Piper, Groove or HubSpot link. The remainder of the send flow will execute normally.
What will the recipient receive?
Depending on the options selected at the time of the send, the recipient's experience will differ. If the sender is sending a "Generated Link" and including it in their own communication, the recipient will be sent directly to the landing page where they will be asked to schedule a meeting as seen below:
They will be prompted to book a meeting and when the meeting is set, they will be taken to a page to redeem the gift. If the gift is an eGift, they will be able to redeem it immediately.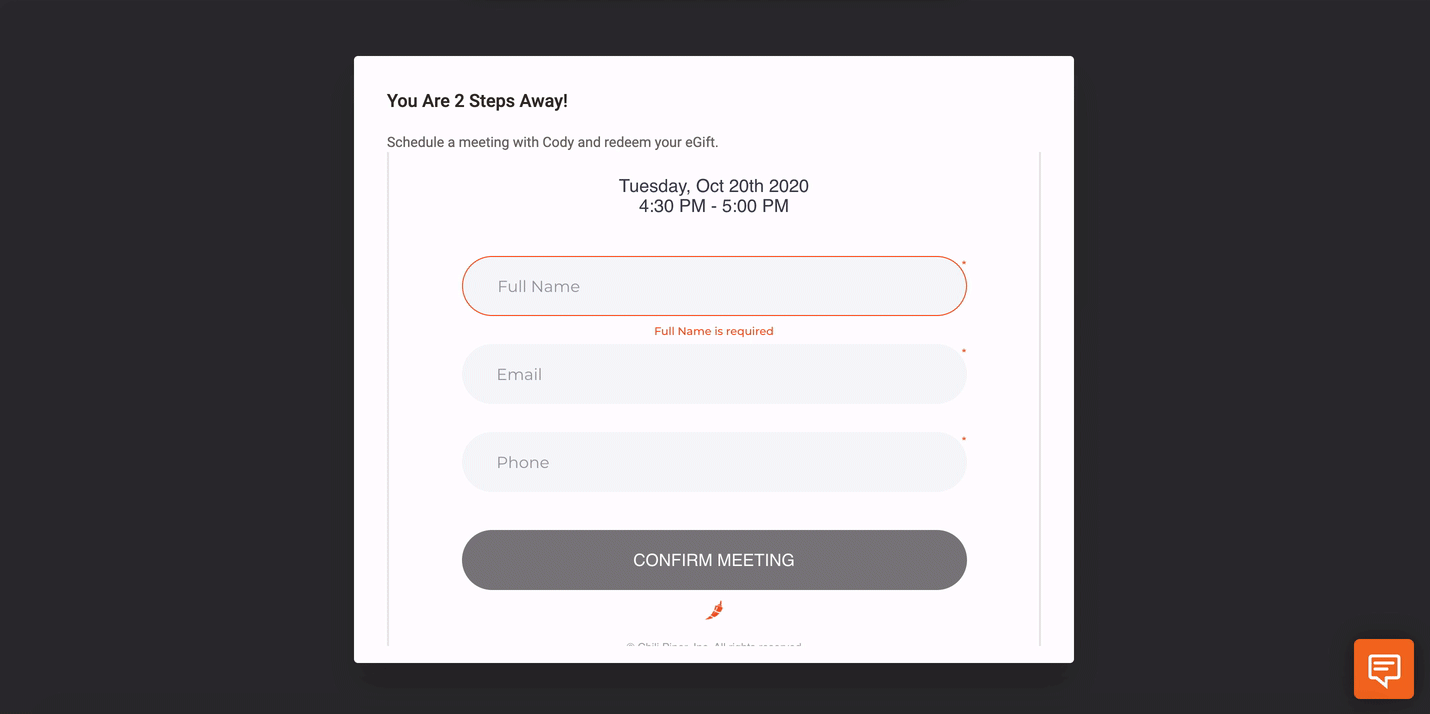 FAQs
Q: What scheduling tools does this feature work with?
A: Outreach, Salesloft, Calendly, Chili Piper, Groove, and HubSpot currently.
Q: Does this feature also work with a free version of Calendly?
A: Yes.
Q: My Outreach calendar link is not accepted, what do I do?
A: Outreach instances use specific sub-domains and thus, the base URL must be added to the approved list for each customer. To enable support for your organization's Outreach calendar please provide a sample meeting link to your CS resource or our Support team.
Meeting links can be found in Outreach under Settings > Calendar > Public Calendar URL.
Q: Are there any eGifts that are not eligible for this feature?
A: No, this works with ALL eGifts, including Sendoso Choice options. However, it only works with manual 1:1 sends.
Q: When does the Sender pay for the eGift?
A: The Sender is charged once the meeting scheduler email is sent. They will be refunded if the email is not opened.